Desert Primitive Talisman Necklace + Cobra Jasper + Handmade Silver and Bronze Elements + Fossil Ivory + Hand Plied Linen Cord + Ancient Beads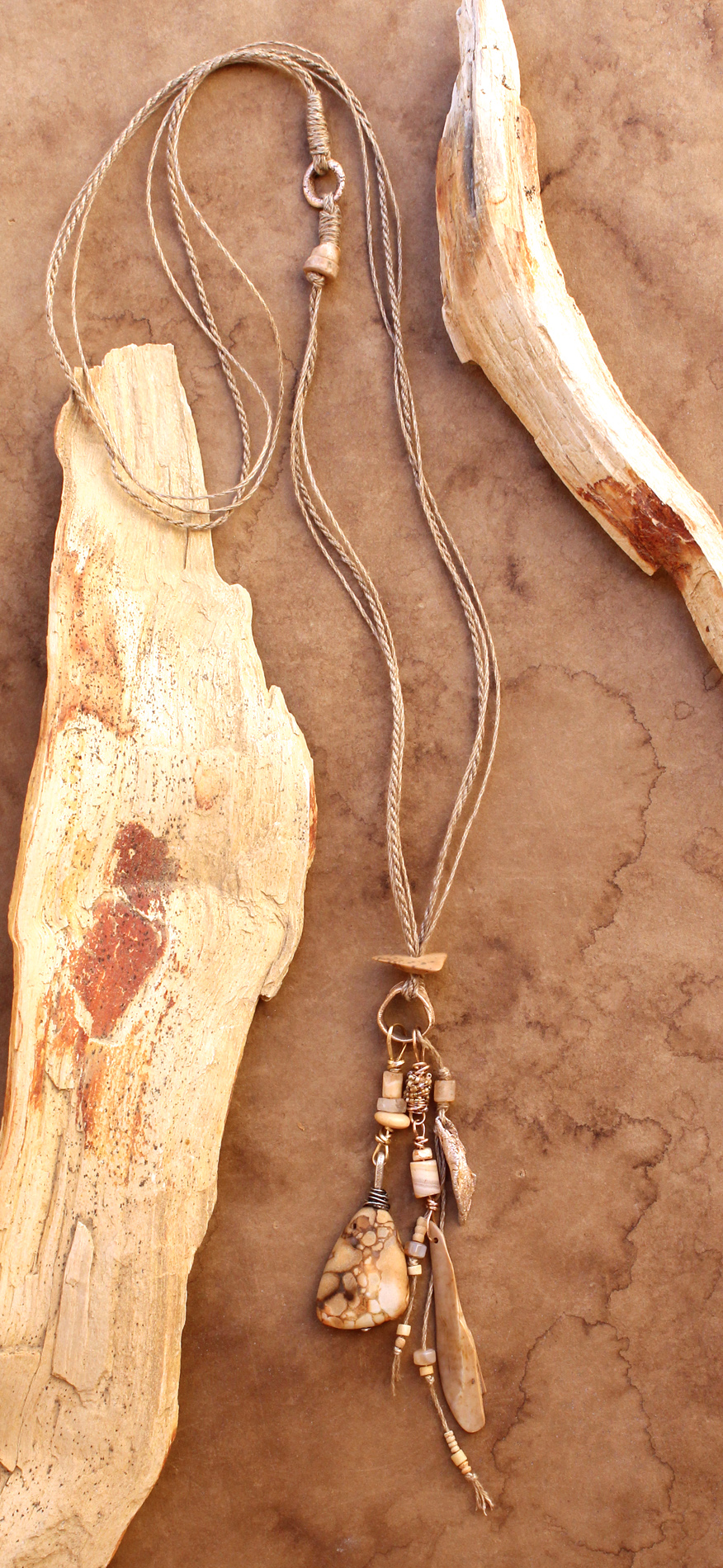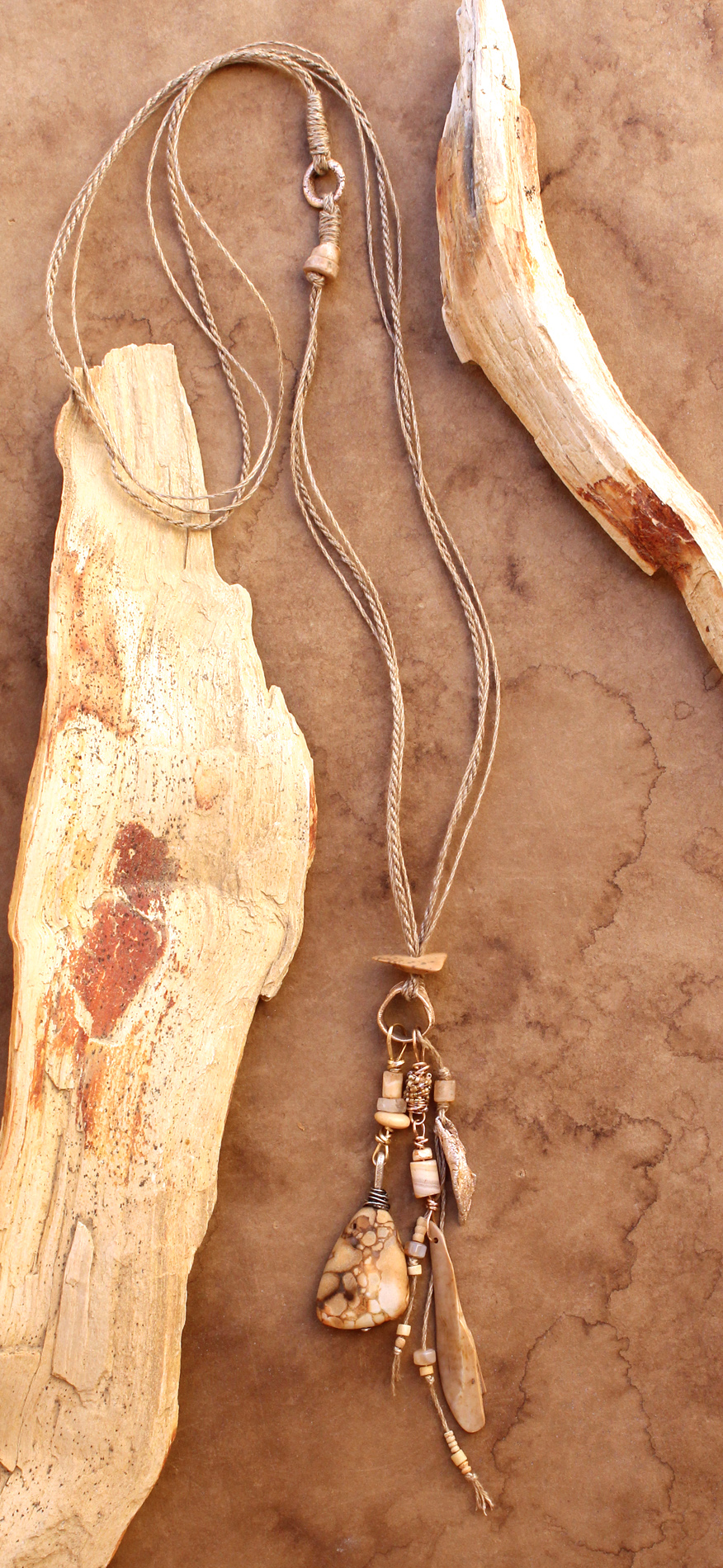 sold out
Desert Primitive Talisman Necklace + Cobra Jasper + Handmade Silver and Bronze Elements + Fossil Ivory + Hand Plied Linen Cord + Ancient Beads
A soft and elegant talisman for a desert walk...elements in light earth tones dance on a strand of natural linen
:: Into the Sunlight ::
A talisman from the Solar Tribe, just the right balance of grace and softness with earthy primitive. This is a perfect adornment for a walk across sunlit sands or through a desert landscape studded with pale granite boulders. Each element moves with complete freedom and lightness.
The pendant is a collection of ancient and new elements, several of which I made myself. The large stone piece is an especially lovely matte cobra jasper focal bead by Gary Wilson, that I set on a sterling silver nailhead bail which was hammered on desert rock. Next to it is a slender tongue of pale fossil walrus ivory from St. Lawrence Island, Alaska. To the right is a very rustic amulet made from fine silver PMC: I brought the clay with me on a long day's walkabout at White Sands and impressed it directly into a very rough soaptree yucca pod. Ancient agate tube beads from Africa--although likely manufactured in India--adorn each talisman, along with fossil ivory, Pre-columbian shell, ancient/antique African quartz, polished pink agate, Mali clay, and bone heishe beads. The connectors are hammered bronze and the silver yucca pod talisman is tied onto natural linen. Each element hangs from my handmade bronze clay ring, impressed with a fossil crinoid. Above it is a bead I created from fossil ivory.
Strands of soft, natural linen hold the pendant, two plain strands and one which I hand-plied. They join at a ring I created from bronze clay, and are accented there with two large Pre-columbian shell beads below the wrap. The linen is comfortable, washable, and very durable.
SIZE: The pendant assemblage from the fossil ivory bead to the longest end of the linen cord fringe measures 6 1/2", or 163mm. The necklace with pendant measures 24 1/8", or 61.2cm, from the back of your neck to the end of the pendant when worn.
CARE: Washable. To clean the cord, soak it in cool water with a gentle detergent. Do not scrub. Rinse, blot excess water, and allow to air dry. Everything in the pendant can also be immersed in water, except I don't recommend soaking the tiny beads of Mali clay since they're relatively fragile; it's fine to rinse the pendant in cool water to clean it, and gently blot dry.
PRESENTATION: Into the Sunlight will come to you beautifully giftwrapped. See my shop policies below for details.
++ Shipping is included in the price. ++
HAVE A QUESTION? Click on the shop policies link below for more information. Feel free to contact me if you don't see the answer there