Desert Necklace Trio Set + Layering + Staurolite Cross + Rock Art Spirit Figure Pendant + Ancient Tooth + Boho + Rustic + Earthy + Organic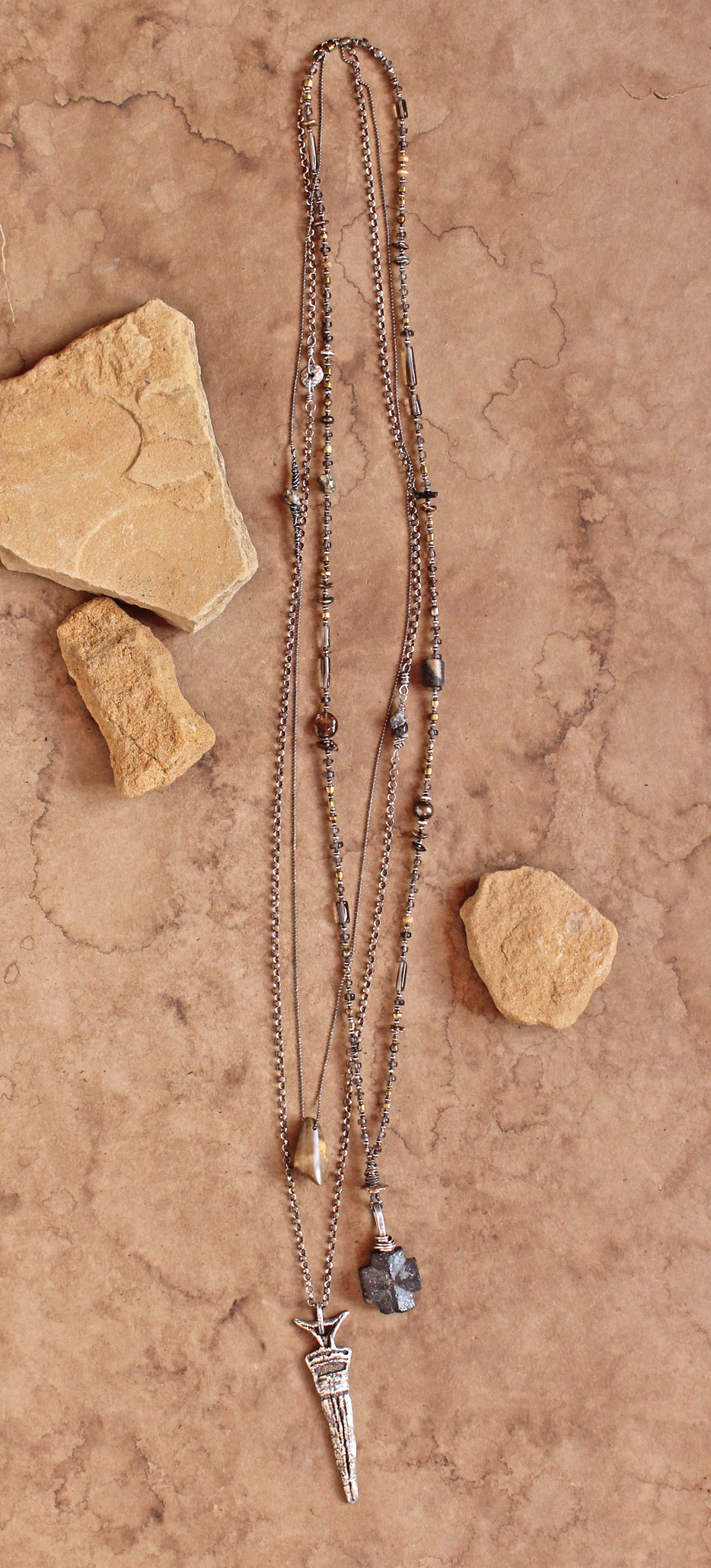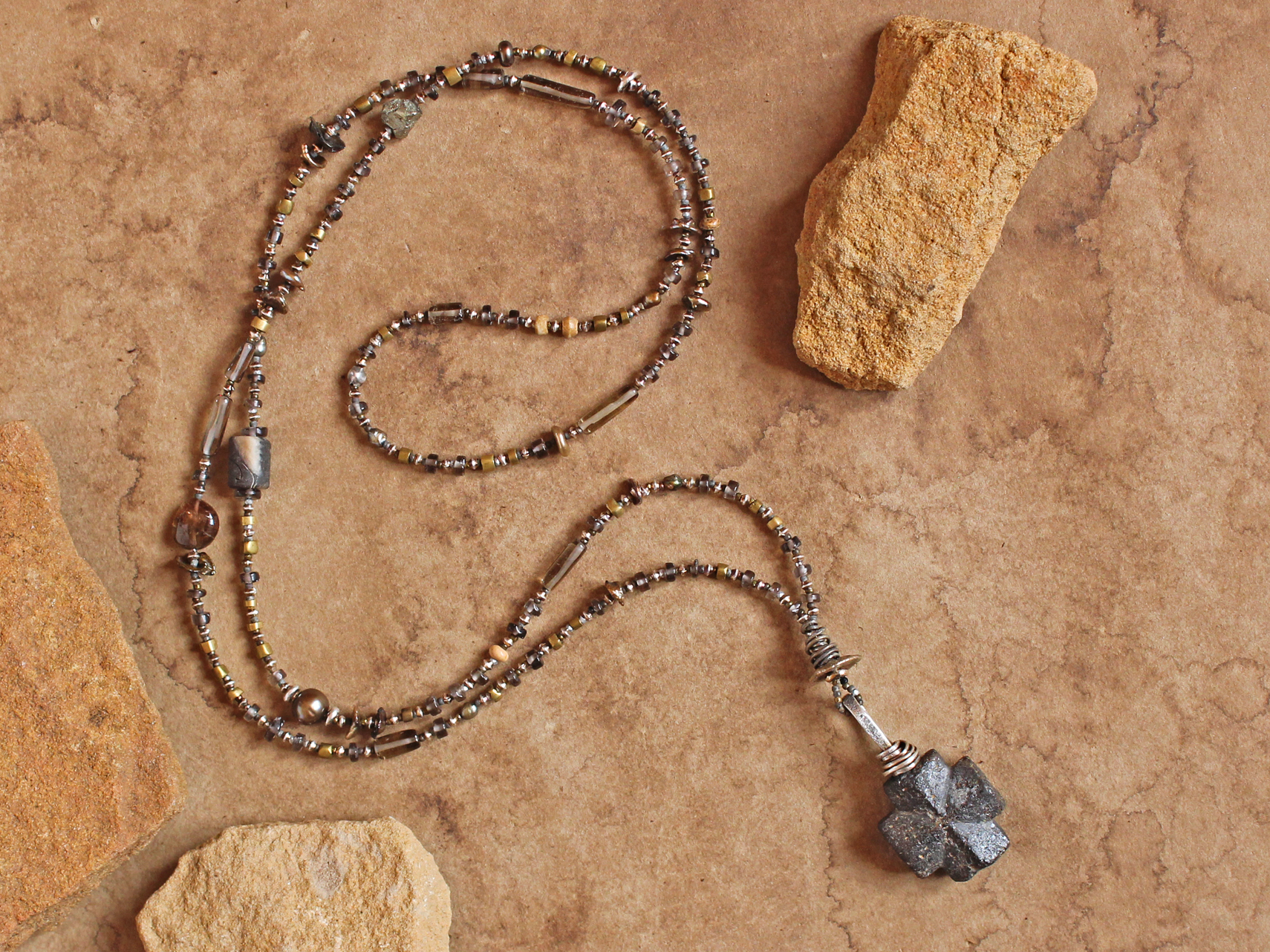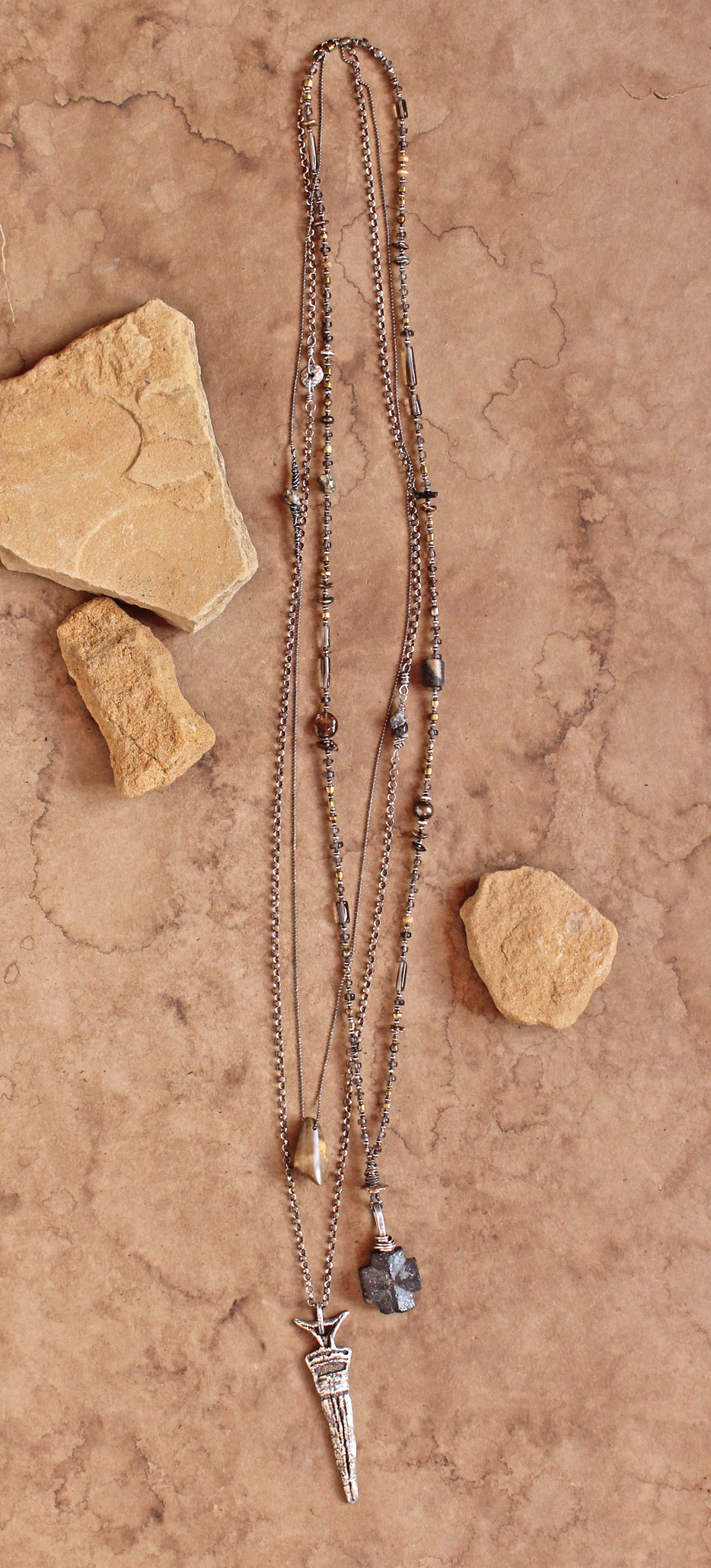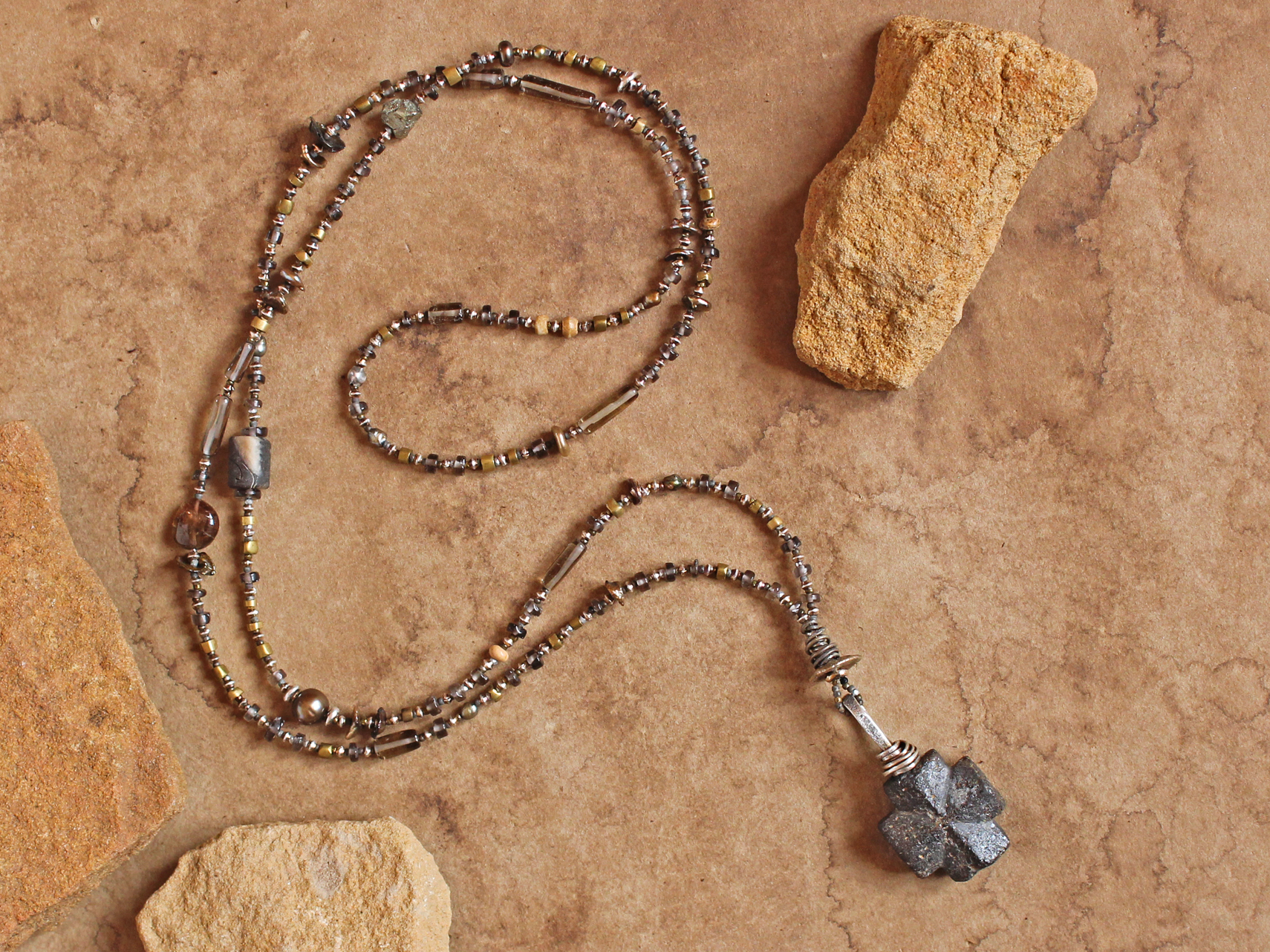 sold out
Desert Necklace Trio Set + Layering + Staurolite Cross + Rock Art Spirit Figure Pendant + Ancient Tooth + Boho + Rustic + Earthy + Organic
Three earthy and organic necklaces…desert treasures
:: The Desert Is Calling ::
This is a set of three necklaces which can be worn all together, as well as separately or in any combination. You can also mix and match them with other talismans. Each one carries a unique desert vibe!
The first and longest of the three has a sterling silver PMC pendant molded after an ancient Barrier Canyon Style pictograph of a horned spirit figure. These haunting images are found in the canyons of southeastern Utah and are thousands of years old, far older than most rock images in the Southwest. This one of a kind talisman was hand carved in the metal clay and is a very thick and substantial piece. A warm patina and soft matte finish complement the stonelike surface. The pendant hangs from a hammered sterling jump ring on a cut sterling silver rolo chain which I have sanded and oxidized. the chain is punctuated in two places by handmade sterling wrapped links, one with a fragment of polished fossil turritella shell, another with a PMC disc molded from very ancient Quebradas, New Mexico marine fossil rock

The middle necklace is the most elaborate, with a very rare twinned staurolite crystal pendant. These crystals, also know as "fairy crosses", are found in a remote location near Taos, New Mexico, and are often included with tiny garnets, as this one is. I have set it on a hammered starling silver bail. The beaded strand has smoky quartz heishi and tubes, vintage Orissa, India, brass, Thai fine silver seed beads and nuggets, antique French steel cut berads, keshi and baroque pearls, a raw pyrite nugget, andalusite, bone and picture jasper. A cylindrical bead made of Baja shellbed fossil was made by Gary Wilson in Tucson.

The third necklace is the simplest: a single tooth, very ancient, from St. Lawrence Island, Alaska. This excavated tooth was polished and comes from a seal or walrus that was hunted many hundreds, even over a thousand, years ago. It is on a very fine sterling bead chain, sanded and oxidized, which is held together with a wrap of sterling wire adorned with a single raw pyrite nugget.
SIZE: Measured from the back of your neck to the end of the pendants, the length of each necklaces is as follows: Barrier Canyon Spirit: 21 3/4", Staurolite Cross: 18 7/8", Ancient Tooth: 17".
CARE: Rinse in cool water to clean. Dry with a soft, damp cloth. The silver may be polished with a silver polishing cloth.
PRESENTATION: This necklace set will come to you beautifully gift wrapped in an earth-friendly and recycled gift box. Please see the Shop Policies below for details.
++ Shipping is included in the price ++ Shipping to Canada and Australia is available for an extra charge ++
HAVE A QUESTION? Click on the shop policies link below for more information. Feel free to contact me if you don't see the answer there.