New Mexico Turquoise Ring + Natural + Untreated + Cerrillos Mine + Southwestern + Adjustable Size 8 + Sterling Silver + Primitive + Wabi Sabi + Boho Style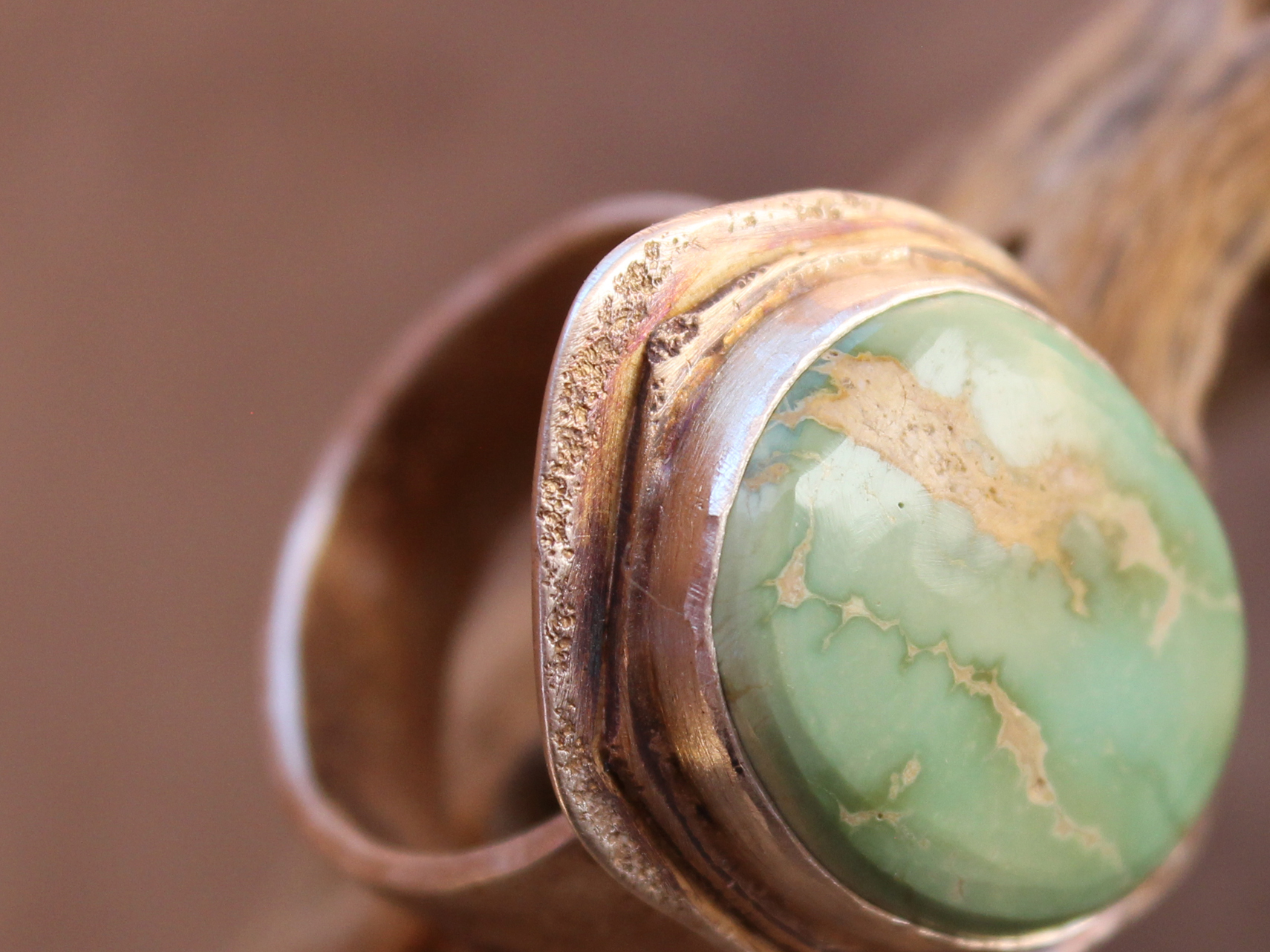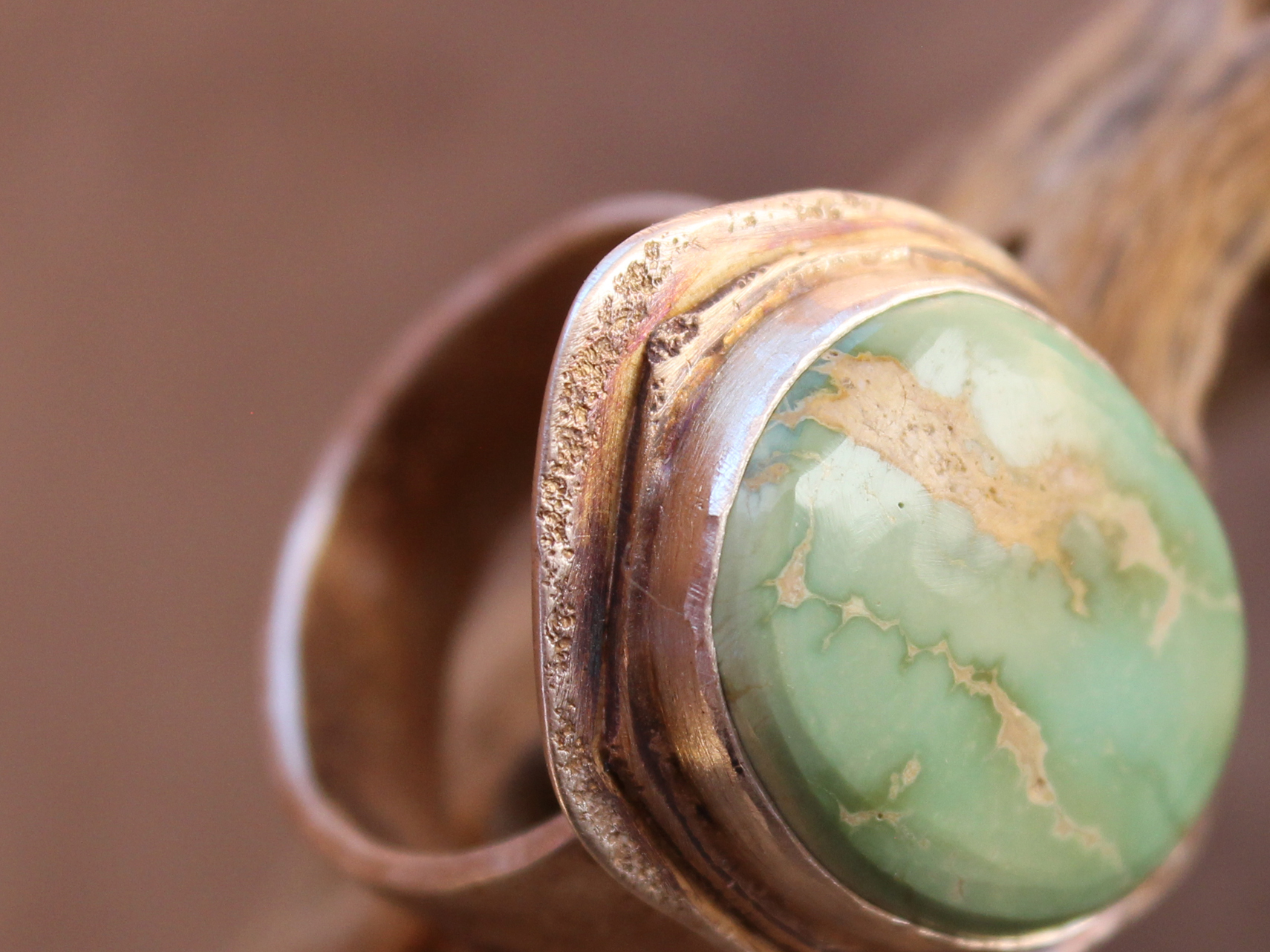 sold out
New Mexico Turquoise Ring + Natural + Untreated + Cerrillos Mine + Southwestern + Adjustable Size 8 + Sterling Silver + Primitive + Wabi Sabi + Boho Style
From the ancient turquoise mining area of the Ancestral Pueblo people, soft green turquoise set in a Desert Primitive ring
:: Cerrillos Hills ::
This wonderful little turquoise cabochon was mined and created by my friends in Cerrillos, New Mexico. Todd and Patricia Brown have lived in the tiny, historic village for many years and have been lucky enough to discover veins of turquoise in the rugged desert hills above the town. The Cerrillos area has been favored as a source for turquoise for well over a thousand years. The Ancestral Pueblo people had mines there and stunning Cerrillos turquoise artifacts have been found in Chaco Canyon to the west, and even as far afield as southern Mexico, thanks to extensive trading networks. The vivid blue green stones with pale buff matrix were mined out in the 20th century, but the turquoise is not gone…small veins are still being found. The Browns call their mine the Little Chalchihuitl. The mellow green color is the result of the presence of iron in the stone, and it just seems to reflect the warm, gentle vibe of the New Mexico landscape.
I've set the stone in a ring that reflects the humble, wabi sabi organic quality of the landscape…unassuming, a little rough around the edges, but inviting, comforting somehow. The bezel is backed with bronze layered over sterling silver, hammered a bit on desert rock for an earthy texture, as is the band below. The metal shows the marks of its shaping which are left in place rather than being buffed out, and it has a soft, warm patina. As you wear this ring its evolution will continue, as the patina deepens and the high spots brighten.
When it is worn, the turquoise seems to take on a soft, luminous glow that looks especially appealing against tanned or darker-complected skin...a bit of desert energy and ancient history from the Southwest.
SIZE: The ring size is about a size 8, and it can be expanded up a size and reduced about a half size. The silver setting is 1 1/8" x 7/8" and the turquoise stone measures 3/4" x 5/8".
CARE: Rinse in cool water to clean. Use no soap, oils or chemicals on turquoise—they can affect its color. Polish the metal with a jeweler's polishing cloth, or if you prefer the matte look, use a dry kitchen scrubbing pad. Be sure to avoid the stone when doing so.
PRESENTATION: This ring will come to you beautifully giftwrapped in an earth-friendly and recycled gift box. Please see the Shop Policies below for details.
++ Shipping is included in the price ++ Shipping to Canada and Australia is available for an extra charge ++
HAVE A QUESTION? Click on the shop policies link below for more information. Feel free to contact me if you don't see the answer there.