Mastodon Tusk Talisman + Tribal Primitive + Prehistoric + Beaded Necklace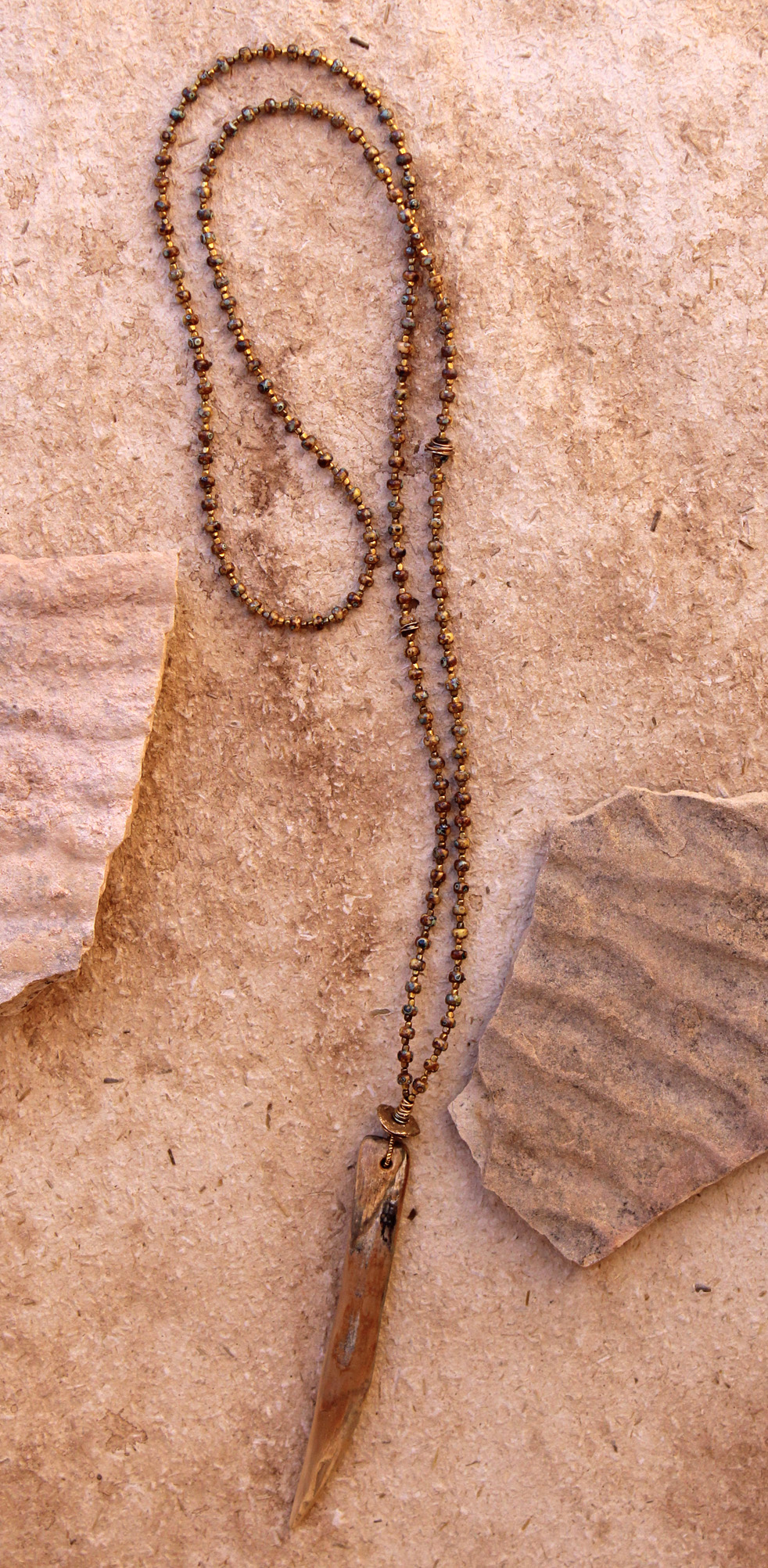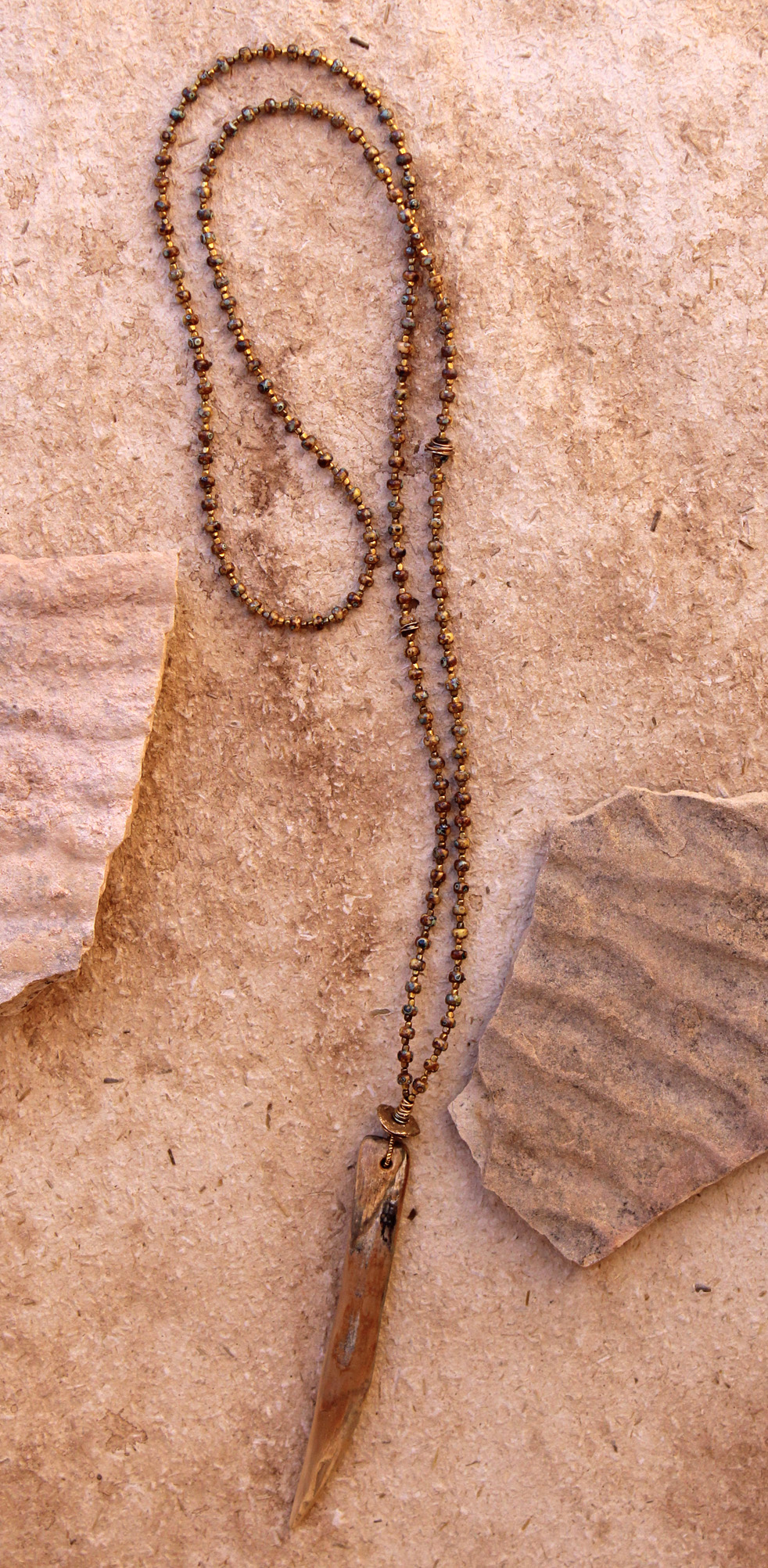 sold out
Mastodon Tusk Talisman + Tribal Primitive + Prehistoric + Beaded Necklace
A relic of the Ice Age, hand polished on a strand of matching beads
:: Mastodon ::
:: This necklace contains mastodon ivory and is for sale within the United States only ::
According to Ice Age Mammals of North America, mastodons appeared on the scene about 35 million years ago, 15 million years before the first mammoths came along. These prehistoric behemoths looked like someone crossed an elephant with a tank: long and low and shaggy, with relatively small ears. They liked to browse evergreens with a predilection for spruce, along with grass and moss. Mastodon remains show that they lived just about everywhere in what would eventually become the continental US. The Paleoindians apparently thought they made good eating; evidence shows that mastodons were hunted up until their extinction around 8,000 years ago.
This fragment of mastodon tusk exhibits a tonal play of soft tan hues stained here and there with areas of teal blue vivianite. It weathered out of the permafrost in the far north, probably Siberia since it looks like similar pieces I have from that locale. I cut this piece out of a raw chunk using my jeweler's saw and carefully shaped and polished it entirely by hand, without the use of power tools. The result is a handsome polish that reveals the subtlety of the grain and richness of color, and which feels good in the hand. It has a striking presence and primitive grace.
The beads are some really wonderful Czech Picasso finish glass seed beads which are mottled rust and turquoise/teal over pale golden yellow. They are such a close match to the tusk fragment that they look like they were made for it. I alternated them with oxidized brass barrels with cast bronze accents on the strand. At the juncture is a bronze disc I created myself, molded from desert rock, and a cast bronze bead. The ivory itself is suspended on a loop of tiny antique French metal beads. The necklace was strung on Beadalon 49 strand professional grade beading wire.
An excellent candidate for a layering piece. The ivory is extremely tough and will not mind bumping against other pendants.
A primal treasure from a lost world...
CARE: Immersion in water is not recommended: wipe with a soft, damp cloth to clean.
SIZE: 23" long from the back of your neck to the end of the ivory artifact, when worn. The ivory pendant is 4 1/4" long.
PRESENTATION: This necklace will come to you gift wrapped in hand-decorated and recycled earth-friendly packaging. See my shop policies below for details.
++ Shipping is included in the price ++
HAVE A QUESTION? Click on the shop policies link below for more information. Feel free to contact me if you don't see the answer there